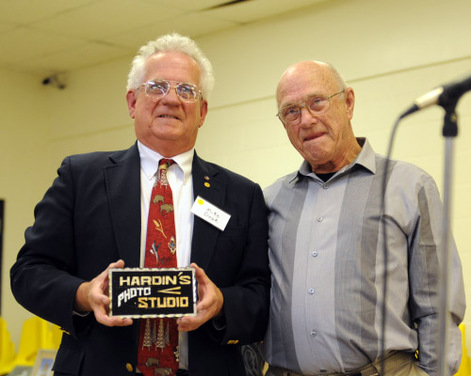 Mike Doak, president of the Henryetta Historical Society, pictured with Richard Walker, step grandson of Joseph W. Hardin, who presented a gift of a Hardin's Studio sign at the Founders' Day Celebration on November 16, 2013.
Thank you Henryetta Historical Society for inviting me to present Saturday night. I appreciate being part of your event and enjoyed showing off the Joseph W. Hardin Collection. It was great to be able to show the photos in high-resolution on the big screen and share these fascinating images of Henryetta and the surrounding area.

The Hardin collection is an amazing collection that I have been privileged to work with for over 10 years now, digitizing and restoring portions of the collection in several initiatives. Within the collection of over 5000 photos, glass negative and conventional negatives there are almost 100 Cirkut Camera negatives, some up to ten feet in length. This collection is truly a treasure for the Henryetta Historical Society.